Getty Images
I've been lucky to know Nancy Lopez, now 65, over my long career in teaching, and I've watched her play many times. She was a long hitter for her time with a big windup, but her swing also carried the same beautiful rhythm you tend to find in other powerful swings throughout golf 's history.
Nancy learned golf the way many juniors do: She was taught by her father and started with really heavy clubs. She grew up playing in New Mexico, mostly with men who were often older and stronger than her. Nancy learned to hit the ball hard. It may have taught her to let loose, but she also learned that the best way to become a long hitter is to hit the ball solid — a lesson for any player.
As for any young women golfers — or their fathers — who may be reading this and wondering what they can learn from Nancy's swing, looking at this sequence (below) shot in February 1978, I'll make it easy for you: When you study the best players on the LPGA or PGA Tour, no matter their idiosyncrasies, they all feature big, powerful backswing turns. Nancy's long and looping backswing gave her power, and her beautiful rhythm made it all work. It's something every golfer should want to copy.
Nancy wasn't taught a perfect swing. But it was natural. And it got her all the way to the Hall of Fame.
Here's how it works.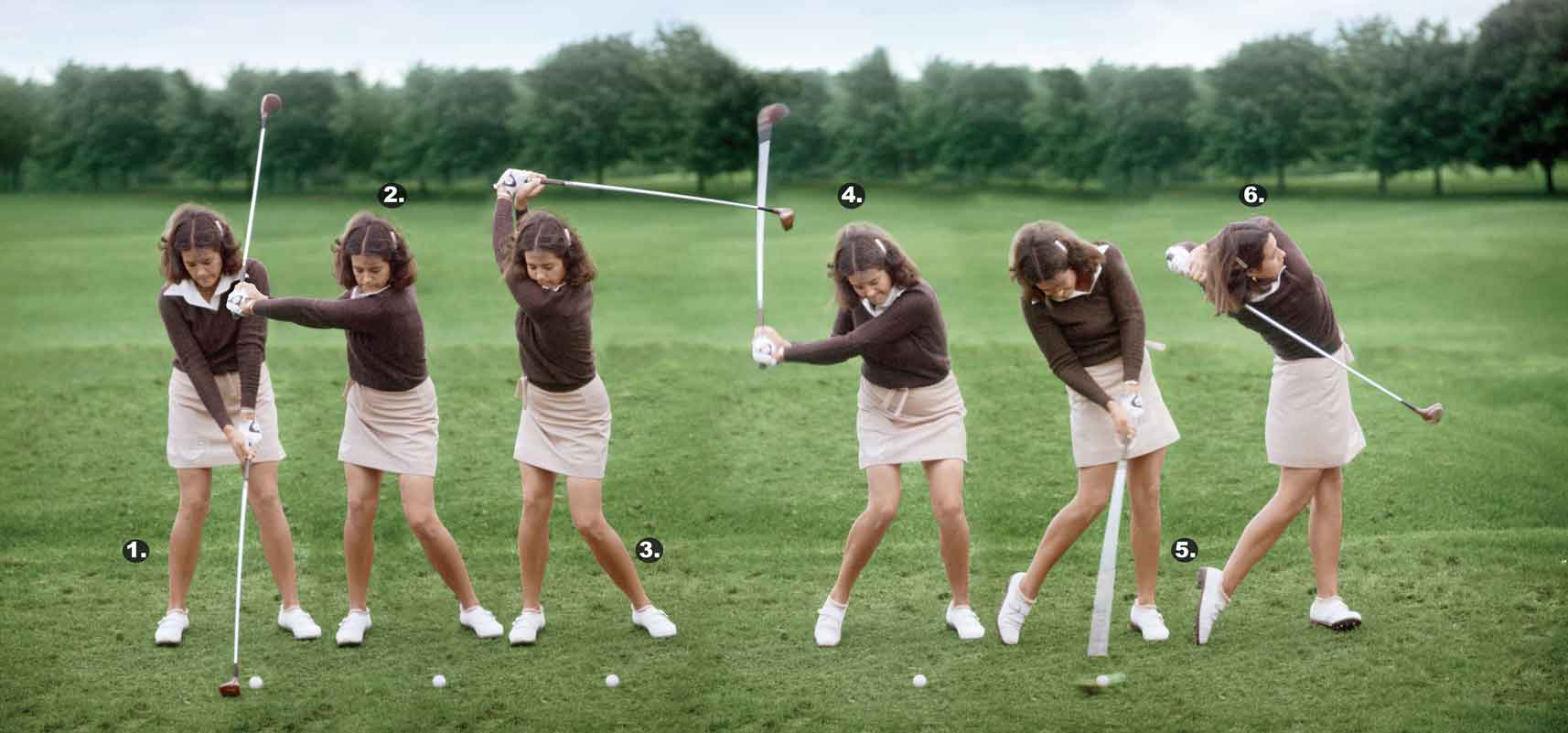 1. Address
Nancy's grip is a little on the strong side. A lot of juniors benefit from a strong grip because, like Nancy, they have faster hips. It's really bad to teach juniors a weak grip, because it's going to promote a severe inside path with a big flip of the hands.
2. Takeaway
Because Nancy learned to swing using really heavy clubs, she had to work hard to get those clubs moving. That's why the clubface is a little shut here. Clubs that are too heavy can create issues for many juniors, and it's why it's so important for juniors to get fit.
3. Backswing
Nancy's big turn was the key to her power. It featured a smooth transition before speeding up again. I always teach longer swings to juniors for a simple reason: Longer swings mean longer shots. The farther you swing the club back, the more power you can potentially create.
4. Transition
Nancy's beautiful rhythm gave her backswing a long and lazy look. This gave her time to start her lower body ahead of the club so that she could continue her body's powerful rotation through the ball without needing to roll her hands.
5. Impact
Her strong grip at setup is now matched at impact because of how much her hips have rotated toward the target. Her swing may look effortless, but you can see in her face how hard she's trying to hit the ball.
6. Finish
Nancy's big, swooping finish is one of her signatures. She's perfectly balanced on her left side — evidence of a swing in which nothing was held back.
Golf Magazine
Subscribe To The Magazine